CALLA: VHERNIER'S ULTIMATE ICON
Vhernier's ultimate icon, essential and sensual, contemporary… a symbol of the brand.
The Calla necklace, a synthesis and expression of the brand's DNA. That unique and perfect element, repeated in a soft and sinuous sequence, that simple shape, inscribed into each of our memories, encloses and at the same time exposes a world of research, simplicity, inspiration, naturalness and ergonomics. The Vhernier world.
Born from a culture of beauty and a tradition in crafting, with roots that go back to workshops of the Italian Renaissance, the Calla is a fascinating piece. It surprises with its rhythmic volumes and perfectly balanced shape, triggering a meditative feeling of calm and continuous movement.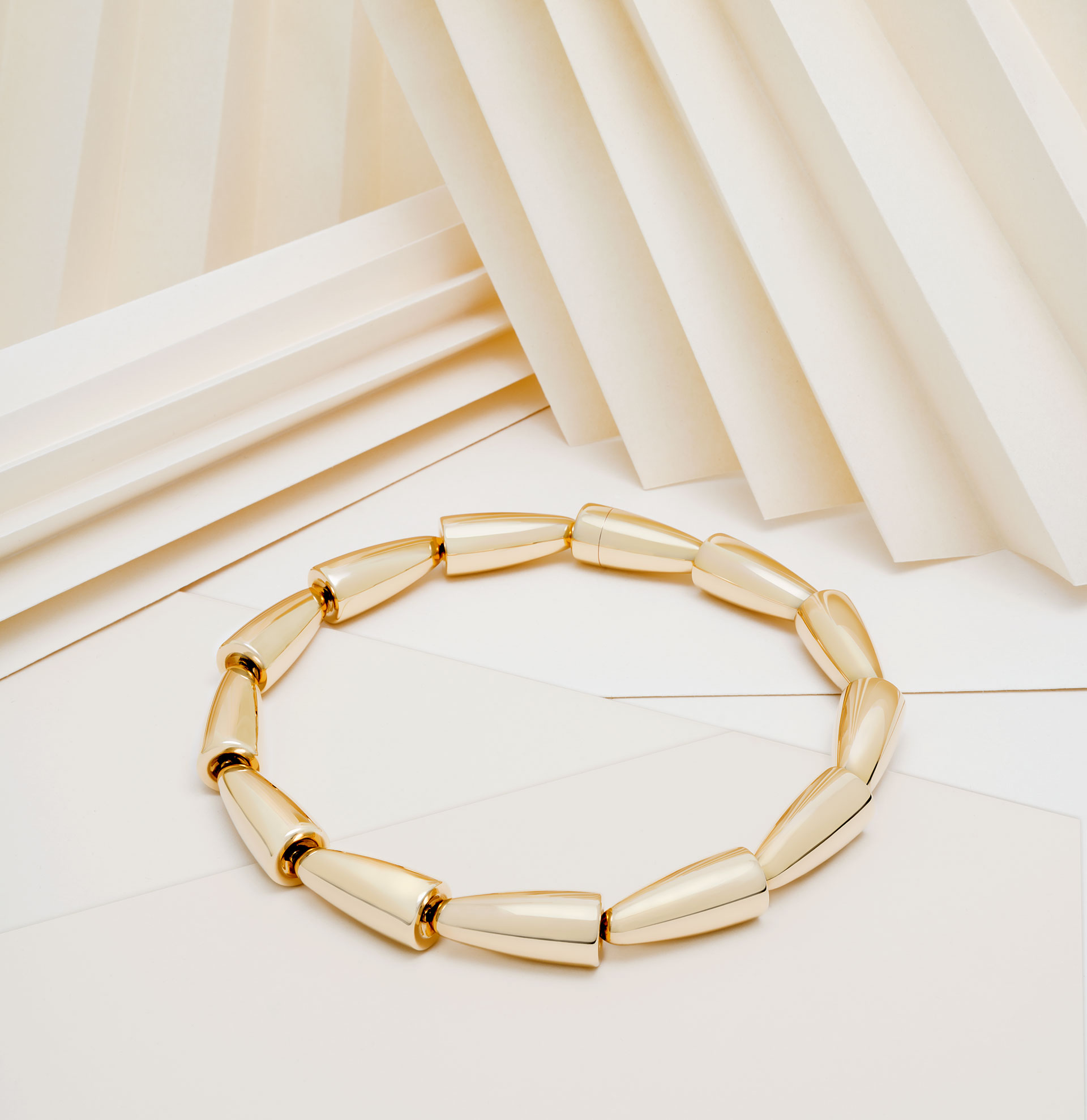 Without curlicues or frills, the Calla expresses a minimalist vocation with courage and unparalleled beauty.
The Calla necklace's ability to connect with a millenary past and its archetypal shapes, has brought it much success, elevating this piece to icon status, universally recognized and loved. Over the years, Vhernier has had the courage to revisit this creation, experimenting and using different and unusual materials, aware that, far from making the jewel less precious, it would rather make it even more capable of expressing the sophisticated non-conformist soul of the brand.
The magic of Calla and the world from which it was born is told by Carlo Traglio and by two internationally known jewel experts: Alba Cappellieri and Amanda Triossi.
A JEWEL THAT'S IN CONSTANT EVOLUTION
The Calla's first official design is still stored in the company's archives for 1999, though research and studies for this design had already started the previous year. The first version of the necklace, followed immediately by the pendant, was made with rose gold, a warm tonality which is very beloved by the brand because it blends perfectly with all skin tones.
Later, a tradition of regular re-visiting began, leading to the creation, over the last 20 years, of 54 variants of the necklace and 98 versions of the pendant.
Chalcedony, chrysoprase, turquoise, rose opal, and coral are only some of the stones used by Vhernier to make the Calla necklace, although the most beloved is the version in gold and ebony: light, captivating, contemporary, and modern. A non-conformist choice by Vhernier, who, with its use of ebony, introduced the idea of using unusual materials. Through its highly sophisticated levels of crafting and processing, Vhernier demonstrated these new materials' absolute beauty and made them precious. A unique breakthrough that has traced an important new path in the world of jewellery. Since then, it has become one of the distinctive features of the brand to walk along new paths and play with unusual materials – as long as they are natural and exceptionally beautiful – mixing them with ultra-precious elements.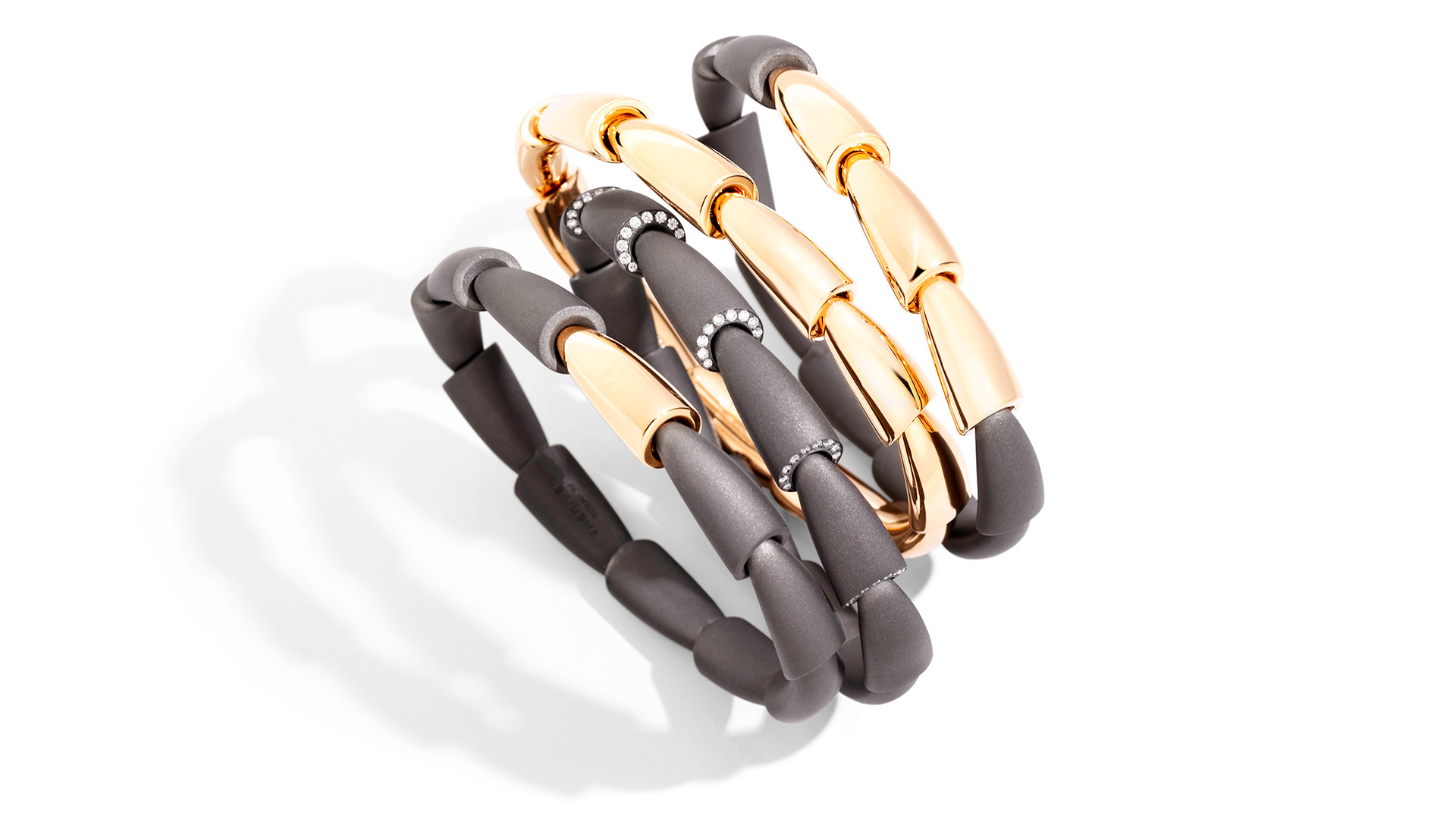 In 2019, Vhernier developed a new way to express the perfection of its most iconic jewel: by giving it a design that adapts ergonomically to the shape of those who are wearing it. Without changing its original aesthetics and distinctive shapes, for the first time, the iconic piece was given additional curve and made more enveloping. From this new interpretation, a new collection of bracelets, earrings, rings and chains was born.