FLOWERS: HIGH JEWELLERY ACCORDING TO VHERNIER
Unique pieces, an unprecedented synthesis of great preciousness and understatement. Rare and bright flowers that bloom only once. These are the Flowers: high jewelery according to Vhernier. They were born from a desire for beauty that led the brand to seek exceptional stones. Or rather, unique.
Spinels, tanzanites, rubelites, mandarin garnets … unusual stones, each different, which have in common exceptional characteristics of brightness, color, purity. Some have been unearthed in Europe over the years – like seven magnificent ancient emeralds, others bought with patience in Burmese parlors. Stones that remain stored in a drawer, until the right inspiration arrives.
The first jewel of this collection is born when a customer shares her wish to the President of Vhernier, Carlo Traglio: she has a large stone, very beautiful and very difficult; and would love that stone to be used for a ring which encapsulates Vhernier's distinctive features, the purity of the lines, the luxury of subtraction. Other jewels will follow later, each one originating from an exceptional stone and a story: that of the person who is going to wear it. They are unique creations, which want to enclose and express equally unique personalities, becoming jewels for life. Companions, talismans. To be worn anytime.
Vhernier's Flowers are jewels with unique and rare stones. Like those featured in the "Vhernier Museum" clip: a virtual showcase of cushion-cut tanzanites, extraordinary pear-cut diamonds, rubelites, mandarin garnets, sapphires, cushion-cabochon-cut emeralds that meet the preciousness of white and rose gold, but also the extraordinary materiality of ebony and the unconventionality of titanium.
EXCEPTIONAL PIECES
Always devoted to the search for new codes and languages, over the years Vhernier has brought a contribution of profound innovation to jewelry not only with design and materials but also with exceptional new crafting techniques.
The Velvet collection and the Calla Caviar necklace, although not born, like the Flowers, from unique stones, are precious creations made in very limited editions, with extremely complex and daring processes and, as always, with the most beautiful materials ever.
VELVET
Born from the desire to create a necklace never seen before, the Velvet necklace – the most representative piece of the collection – is a contemporary gorgère able to adapt softly to any neck. The inspiration comes from the shapes of the sea clam, a shell, and from the waves of the water that touch it. The fluidity of that movement was captured thanks to the lightness of titanium, poor and beautiful, combined with a cascade of diamonds. An aesthetic shock and at the same time a wonderful intuition, as required by the innovative spirit of Vhernier who has always created his own codes, regardless of fashion.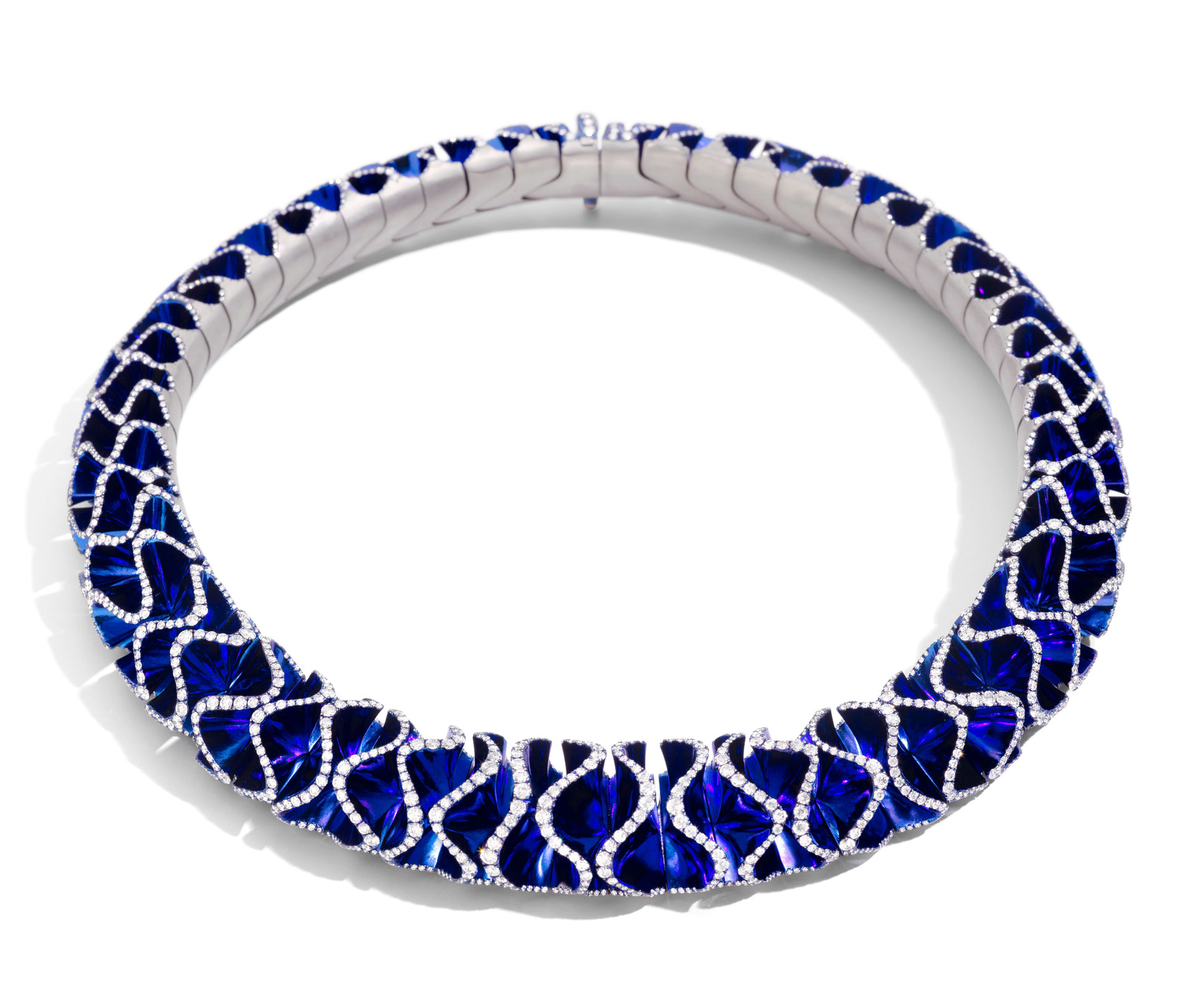 CALLA CAVIAR
Deeply contemporary and sophisticated, Calla combines the softness of curves and the magnificent anarchy of natural forms. One of Vhernier's most emblematic jewels, it presents a single element repeated several times: an ancestral shape, carved in the mind and recurring in memory. In this exceptional reinterpretation, it is covered in a pavé of beautiful black diamonds. A creation made by highly experienced Master Craftsmen who work with the microscope: each stone is held by only two points, instead of the industry standard's four prongs, to see as little metal as possible. A prodigy of handcrafting for a jewel with an eternal charm.