BLACK TITANIUM:
ENIGMATIC CHARM
Unconventional design, unprecedented volumes, sophisticated workmanship, unusual materials: Vhernier is known for its experimental attitude and for its being always far from what has already been seen. In terms of materials, its avant-garde spirit is revealed in the choice of materials, unusual ones which are combined with the most beautiful precious materials. Such unusual materials as ebony, kogolong, jet, bronze, or titanium.
Vhernier was a pioneer in the use of this latter, extreme and enigmatic material. Although it is very difficult to work with – a real challenge for anyone who has tried it – it grants the stylistic freedom to create jewels with an important volume but at the same time extremely light. An incomparable advantage, which gives great wearability to earclips, rings and bracelets. Therefore, some of the brand's most iconic jewels have been interpreted in titanium such as the Eclisse ring and earclips, the Calla bracelet, the Tourbillon ring.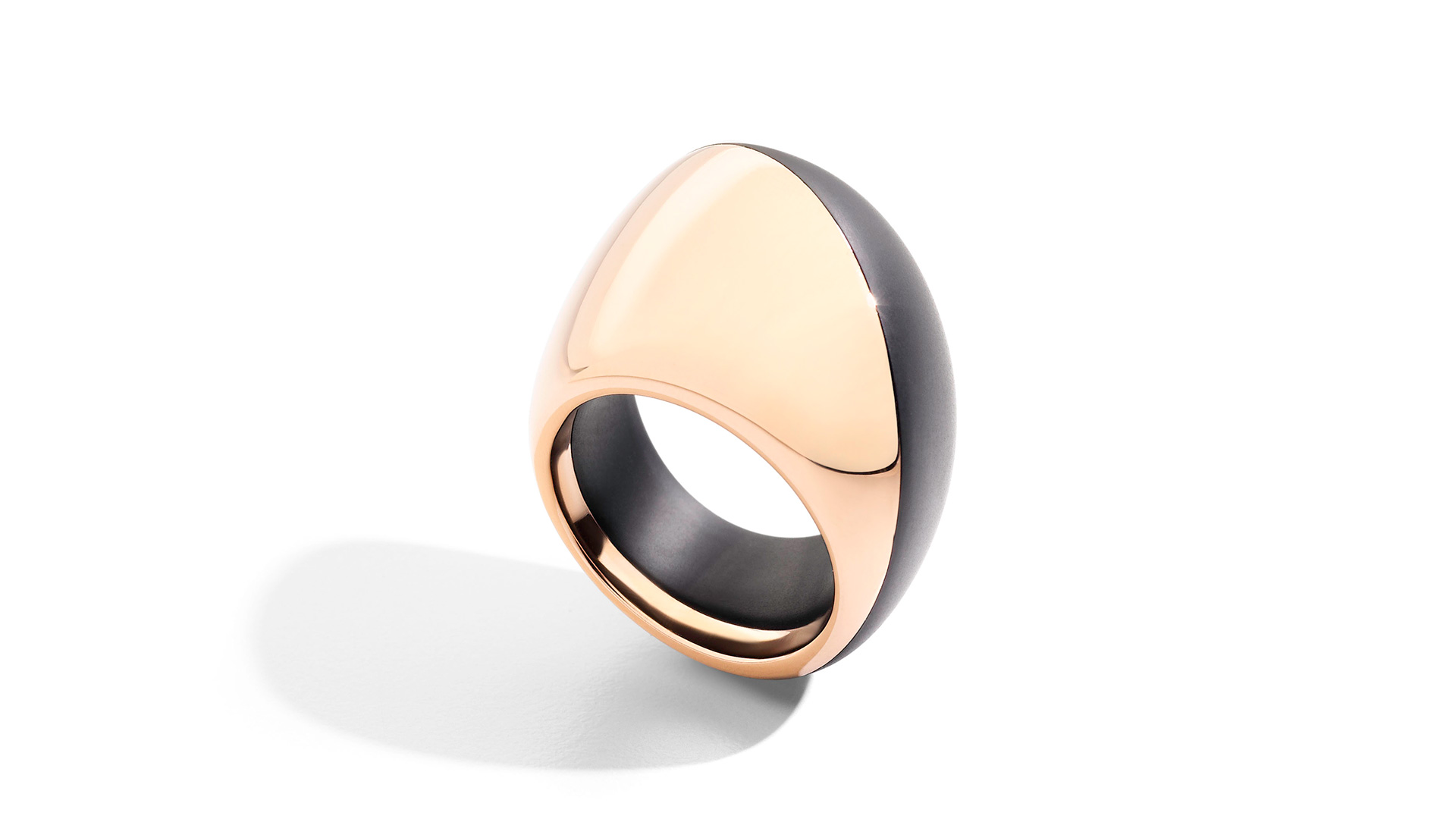 From the passion for this material and from constant research, black titanium was born, an innovation that Vhernier introduced in the world of jewelry with its Trottola collection in 2019. With its sculptural and playful elements, it is a very modern and understated line where the light of the diamonds or the color of the gold are enhanced by the opacity of the black titanium. This exceptional, hypoallergenic and biocompatible alloy is even stronger than the original element and is capable of giving the metal an intense and unassailable shade over time.
Crafting these jewels is a real challenge, since Vhernier's characteristic large sculptural forms do not admit imperfections: more than two years of study and research were necessary to produce jewels with perfectly smooth surfaces, born from an excellent melting of titanium that required specific tuning. A further difficulty is represented by the setting of stones and pavé, since titanium is a very hard material. A complexity that increases in the case of the classic Vhernier setting, done with only two prongs, so much so that only few craftsmen with exceptional skills are able to make it perfectly.
However, the hard work is rewarded by the exceptional characteristics of this unusual material. If its extreme lightness allows bold and light volumes, its totally new appearance expresses a sophisticated and never banal elegance.